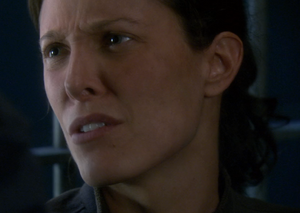 Maggie Mullen, portrayed by Erin Daniels, is a refugee from Columbus. Her group takes advantage of supplies left behind by soldiers in a refugee camp (Dressing up and impersonating US Marines), and the group forms an elaborate scheme to con towns out of food and supplies by posing as Marines on a relief effort. Their scheme is busted in Jericho, and they are kicked out of the town. She is later arrested in New Bern, where she attempts to help Hawkins bomb the town, but she is severely wounded.
Ad blocker interference detected!
Wikia is a free-to-use site that makes money from advertising. We have a modified experience for viewers using ad blockers

Wikia is not accessible if you've made further modifications. Remove the custom ad blocker rule(s) and the page will load as expected.