We going to need more supplies to get through the winter.
This page is a Stub, you can help Jerichopeida by adding information to North Korea.
North Korea
was a nation in Far Eastern Asia. It was ruled by 
Kim Jong-il
.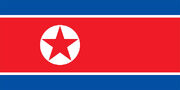 Pre-nuclear 
Edit
Before the war, North Korea was a powerful nation with a large
nuclear arsenal. They had done multiple nuclear tests, which worried the United States and 
it's president. 
The President purposed an embargo against North Korea while "the helpless world braces for second blast". 
Post-nuclear
Edit
After the terrorist attacks, it was rumored that North Korea had bombed America. 
It, along with Iran, was blamed by the leaders of the Allied States of America for the nuclear attacks on the U.S.A as a means of covering their own guilt. North Korea & Iran were then hit by the A.S.A's nuclear missiles & completely destroyed.
Appearances 
Edit
Ad blocker interference detected!
Wikia is a free-to-use site that makes money from advertising. We have a modified experience for viewers using ad blockers

Wikia is not accessible if you've made further modifications. Remove the custom ad blocker rule(s) and the page will load as expected.