Ravenwood
is a private military company whose members were also operating in Iraq before the bombs. The organization is hired by FEMA to assist in evacuation procedures following the nuclear attacks, a move attributed to insufficient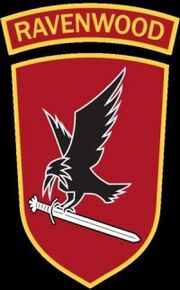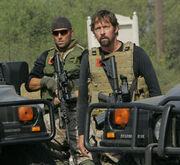 numbers of National Guard troops. However, the Ravenwood mercenaries sent to help in
Rogue River
instead loot the town's medical supplies, murder unmovable patients and personnel at the town's hospital and decide to take a tour of other towns nearby to collect more supplies. They attempt to enter Jericho, but when that fails due to the determined resistance encountered there, they instead attack neighboring town New Bern, causing heavy damage and some deaths. Members include
Goetz
, a squad leader, and
Randy Payton
, a hired contractor, Stanton, Bulger, Burke, and Sloan.
It is later revealed that Ravenwood is a wholly-owned subsidiary of Jennings & Rall, the company hired by the new government of the Allied States of America to administer the territory. When major Beck, the commander of ASA army in Jericho is transferred to other duties, a Ravenwood team under the command of Goetz is sent in to help with administrative duties. Goetz treats Jericho residents harshly, partly as a revenge for a previous defeat. His team confiscates supplies and harasses the residents, especially Jake Green and others whom he deems threats. Despite their acts the Rawenwood team members have the immunity.
However, the team is later discharged due to embezzlement of J&R funds, leaving a whole team disarmed and left behind. Theteam is later wiped out by angry residents of Jericho and New Bern in an attempt to kill Mimi Clark for exposing their actions, while Goetz himself is shot by Stanley Richmond for killing his sister Bonnie.