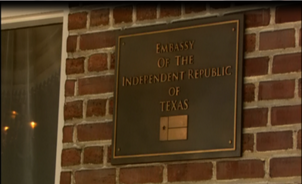 The diplomatic mission of the Independent Republic of Texas in the Allied States is located in the Federal District of Cheyenne, Wyoming. The Embassy is guarded by elements from the Texan Military - it is unknown if it's the army, or marine corps. The Embassy only appears in Patriots and Tyrants, where Jake and Robert rush to the Embassy (which is sovereign Texan soil) to make sure they don't get caught with the bomb. After a tense encounter with the security forces, the ambassador tells the men to stand down, and rather keep the Allied States Military out of the complex (he says if they attempt to enter, it will be seen as an act of war against Texas).
Deleted Scene
Edit
In a deleted scene of Patriots and Tyrants, it was shown that the AS Armed Forces forced their way into the Embassy gates, opening fire on Texas Soldiers, thereby firing the first shots of the Second American Civil War.
Ad blocker interference detected!
Wikia is a free-to-use site that makes money from advertising. We have a modified experience for viewers using ad blockers

Wikia is not accessible if you've made further modifications. Remove the custom ad blocker rule(s) and the page will load as expected.